The Massachusetts Homestead Protection Act is a law put in place to shield Massachusetts homeowners from having creditors auction off your home to pay off unsecured debt. The purchase of a home is likely the single biggest investment most of us will ever make. This protection will prevent creditors from putting a lien on your home should you find yourself in financial trouble. Should you have an accident or incur unexpected medical costs, the homestead protection will allow you to keep your home and will keep the debt collectors at bay.
What to know about what is protected and what is not protected under this act:
Covered: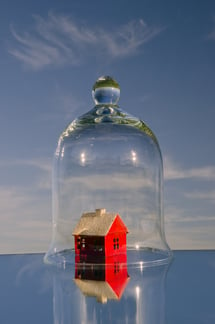 This law automatically protects up to $125,000 in home equity without having to file for protection
Protection up to $500,000 is available for those who apply for homestead protection
Property in trust can be protected under the law
A home that is transferred to another family member carries the protection
A spouse is automatically covered even if his/her name is not on the title
As long of they also live in your home, other owners and family members are also covered
Manufactured or mobile homes, even if there is no deed for the land on record, are covered
Not covered:
Priority debts, such as government taxes, criminal fines, child support and alimony are not protected
The mortgage that was used to purchase the home
Any lien put on the home before your filed for protection
Additional things to know about the Massachusetts Homestead Protection Act.
The homestead remains in effect if you should refinance your home.
Closing attorneys must advise borrowers of the availability of a homestead in all mortgage transactions.
The elderly and disabled are entitled to extra protection. While every home is eligible for up to $500,000 in homestead protection if the owner files, each owner who is either disabled or 62 or older can also claim up to $500,000 for him/herself. This allows up to a total of $1,000,000 of homestead protection if both owners are elderly (62 or older) or disabled. This particular homestead protection ends in the event the elderly or disabled owner passes away. In the event just one owner is elderly or disabled, the other may want to file for homestead protection. This ensures that if the elderly or disabled owner dies first, the remaining owner is still covered.
To apply for declaration of homestead, you must go to the registry of deeds in the county where the property is located to fill out the Declaration of Homestead form. The Book and Page number of your deed is required in order to complete the form. Only sign the form when in the presence of a notary public to witness your signature. Completed forms are to be returned to the Registry of Deeds clerk. The cost of filing for homestead protection is roughly $35 depending on the county you live in.
If you are interested in having a Declaration of Homestead prepared for you and your family, click here or the image below to contact one of our specialized attorneys today.